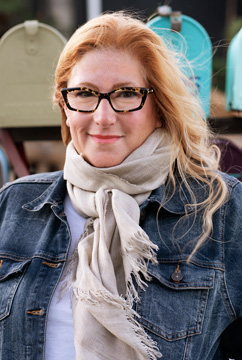 When Jenn Menken tells you why she calls Reno home, you'll want to call Reno home too.
"Why do I love Reno? I'm within minutes of open space, I have access to every outdoor activity imaginable. Nature is at her finest, with mountains and lakes and rivers and wildlife. I have four distinct seasons that are beautiful AND relatively mild. I have access to all the urban conveniences I could want and I'm within driving distance of the Bay Area. I've called Reno my basecamp for the last 27 years – and it's from this place – and because of this place – that I'm able to live my best life."
Since 2003, Jenn has assisted Buyers and Sellers with their real estate needs in Northern Nevada. Her market coverage includes Reno-Sparks, Incline Village, Fernley & Fallon, Carson City and Minden-Gardnerville. Primary residences & second homes, multi-family, vacant land, investments & opportunity zones, distressed property, and light industrial are among her areas of expertise. Working largely by referral and with a limited number of clients at a time, Jenn delivers a highly personalized experience in combination with the national strength and power of the RE/MAX brand. The result is an authentic approach to real estate that gets results and builds long-term relationships.
"I'm a New Yorker born and raised, who became a Santa Barbara transplant and ultimately made Reno my home. Add New England prep-school and a BA from UC Davis to the mix – and it's clear that I'm a one-of-a-kind Northern Nevadan. What that means for my clients is that they get the benefit of my East Coast tenacity delivered with a West Coast ease. When it comes to getting my clients what they want – I am direct and unrelenting – but it's always delivered with a calm demeanor and a smile."
Jenn's commitment to confidentiality, integrity and candid advice have earned her the respect and friendship of her clients. From first time home buyers to international investors, from outdoor enthusiasts to professional athletes, from high profile clients with low profile needs to her beloved fellow Nevadans – her clients are varied yet one thing always remains the same. What matters to them, matters to Jenn.
Well respected by her peers and within her industry, Jenn served as a board member elect of the Reno Sparks Association of Realtors. She is a graduate of the Nevada Association of Realtors Leadership Academy and the recipient of numerous production-based awards throughout her 17-year career.
Outside of work, you'll most likely find Jenn renovating a house, kayaking on Lake Tahoe, or hanging out with Angus & Merle, her trusty (and very furry) Aussie companions. Hiking, camping and anything outdoors puts a smile on her face. Jenn also has a long horse history – having shown hunter/jumpers as a junior and cutting horses as an amateur. Many circuit championships, national rankings and buckles later, Jenn is now content to enjoy horses from afar, as the mustangs graze on the hills behind her home.
"Basecamp Reno is more than just a phrase – it's really a way of life. I'm clearly biased – but I happen to think it's the best life. Why? Because there's only one Lake Tahoe. And when Reno is your basecamp, you can live the Tahoe lifestyle without giving up urban comfort & convenience. I would love to help you make this place your home too."